January: 20% Off Oral Bordetella Vaccine
Every year thousands of dogs are adopted through local animal shelters, and without the proper vaccinations, these pets become susceptible to many diseases, including Bordetella bronchiseptica.
Bordetella bronchiseptica is a respiratory disease that causes inflammation in a dog's upper respiratory system. This inflammation leads to coughing and illness, and can expose your dog to secondary infections, like Kennel Cough (known as canine infectious tracheobronchitis).
Kennel Cough is easily spread from dog to dog through aerosol droplets, direct contact, or contact with contaminated surfaces like food and water bowls, toys, or kennel runs - kind of like how the common cold is spread in grade schools. This means if you have a dog, they are at risk.
Symptoms include:
Persistent, forceful cough (often sounds like a goose honk)
Sneezing
Runny nose
Eye discharge
Fever
Lack of appetite
Lethargy
In some cases, especially with larger breeds, Kennel Cough can be fatal.
The quickest and most cost-effective way to protect your pet from Kennel Cough is through an oral Bordetella vaccination. By administering the vaccine orally, it is absorbed through the mucus membrane of the mouth, going directly into the blood stream, which allows the immune system to respond faster and begin creating the necessary defenses to block this disease in the future.
Rancho Sequoia Veterinary Hospital is pleased to present you with a special low-cost oral Bordetella vaccination offer, valid for the month of January only. The oral Bordetella vaccine requires a visit with your veterinarian in order to determine if the puppy has already been infected.
February: 20% Off Dental Exam and Cleaning
80% of dogs and 70% of cats have some form of periodontal disease. Bad breath is an early warning sign. Regular cleanings can improve overall health. Simply fill out information below or call us to request a dental exam.
Rancho Sequoia is offering 20% off of regular dental price to encourage you to come in to get your pets' teeth examined and cleaned. This offer is only valid in the month of February.
We thank you for your business and for putting your trust in us.
Keep them smiling!
*Restrictions apply. This discount coupon only applies to base anesthesia, dental scaling and polishing. Pre-anesthetic exam and lab work may be required. It cannot be combined with any other offer or discount.
March: 10% Off Flea / Tick Medication

With the Spring Season around the corner the weather begins to warm up! That means more bugs and critters to deal with! Everybody with pets should get ready to fight off fleas and ticks that have been present even during the Winter Season due to our warm Southern California weather! We highly recommend year-round protection against fleas and ticks for your pets!
To help you get prepared, we will provide you an additional 10% Discount on these already affordable medications during the month of March.
for DOGS
Bravecto: Prevent fleas and ticks up to 3 months in one single chewable dose!
Nexgard: Prevents fleas and ticks in a monthly soft chew!
for CATS
Advantage: Prevents fleas and ticks with a Monthly application
Bravecto: One single application last up to 3 months!
Take advantage of this deal while supplies last in March!

April: 10% Off Heartworm Screening
We are offering 10% Off of Heartworm Screening and Preventatives in observation of National Heartworm Awareness Month!
Heartworm is a serious and potentially fatal disease that is transmitted from animal to animal by mosquitoes. If not detected, or left untreated, it can be deadly!
As effective as preventative medicine is, your dog or cat can still become infected, so annual testing is necessary and highly recommended. The sooner it's detected, the better your pet's chance of recovery.
May: 20% Off Microchip Implantation
The American Humane Association estimates over 10 million dogs and cats are lost or stolen in the U.S. every year. One in three pets will become lost at some point during their life.
So how do you prevent it from happening to your dear furry companion? Lock them up in your house all day long? They wouldn't really appreciate it, would they?
The solution is microchip. One time implantation will permanently mark your animal with your information. And chances of getting them back would be much higher.
During National Microchip Month we would like to offer you Discounted Microchip service in the month of May only!
Feel free to make an appointment below or simply call us and mention the May promotion to get 20% off of Microchip Implantation!
We found a handy flyer for you to download and print from the American Veterinary Medical Association which will serve as a record of their pet's microchip information. Click here to see the flyer.
June: 20% Off Lyme Vaccine
Summer is at our doorstep, and as temperatures increase so does the risk for tick-borne diseases in dogs! Protecting your furry friend from ticks is an important part of disease prevention, and one of the most common tick-borne diseases in the United States is Lyme disease.
Lyme disease (caused by the bacteria Borrelia burgdorferi), is carried by deer ticks which are endemic to the surrounding areas. As a result of two consecutive warm winters, and longer springs and summer, we expect to see an increase in the presence of ticks in Southern California. If you live in an area where deer ticks are prevalent, you should have your dog vaccinated yearly!
Common symptoms of Lyme disease include lethargy, fever, swollen lymph nodes and joints, and lack of appetite. In severe cases, animals may develop heart conditions, kidney disease, or nervous system disorders.
Rancho Sequoia Veterinary Hospital cares about the well being of your pet and is pleased to present you with this Special Low-Cost Lyme Vaccination offer, valid for the MONTH OF JUNE only.
July: 20% Off Rattlesnake Vaccine
10% Off K9 Rattlesnake Vaccines for the Month Of July! Rattlesnake venom is fatal and this vaccine can buy you more time to receive the proper treatment if your pet is ever bitten!
Summer gives you the opportunity to take your furry friend on many wonderful hikes in the surrounding mountains. Unfortunately, alongside picturesque landscapes and open blue skies, there is a hidden danger lurking just around the trail bend...Rattlesnakes.
Fast Facts:
Dogs are 20 times more likely to be bitten by venomous snakes than humans, and are 25 times more likely to die as a result
Rattlesnakes can strike a distance of two-thirds their total body length. This means a three foot long snake can strike a distance of two feet.
Snake bites are life-threatening, painful and can cause permanent damage to your dog. The effects of their venom can be hemotoxic (destroy red blood cells), anticoagulant (disrupt blood clotting), necrotizing (cause organ degeneration and tissue damage), and have neurotoxic effects.
Vaccination can subdue the impact of a rattlesnake bite, reduce or eliminate the need for antivenom, as well as decrease other treatment costs
Anti-venom treatments and hospitalizations for rattlesnake bites in dogs that have not been vaccinated can be very expensive and cost anywhere from $500 - $10,000
Rancho Sequoia Veterinary Hospital wants to help you protect your pet and is pleased to present you with this special low-cost Rattlesnake vaccination offer, valid for the month of July only!
August: 10% Off Influenza Vaccine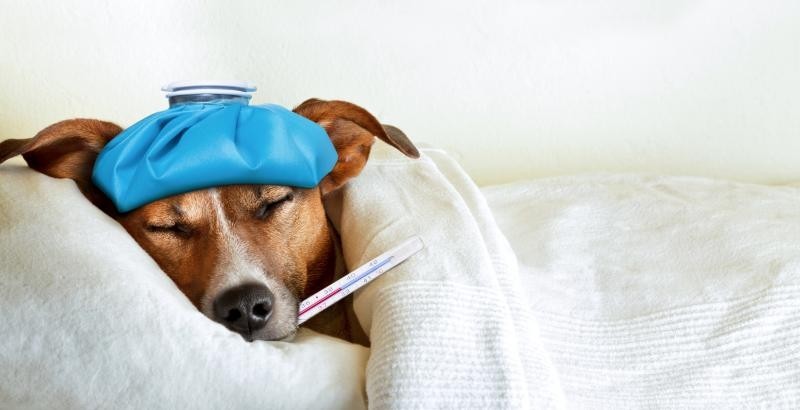 Canine Influenza otherwise known as Dog Flu is a respiratory disease that can be spread through direct contact with infected canines and is more commonly seen in dogs housed in shelters or kennels.

Symptoms of Canine Influenza include:

- Cough
- Runny Nose
- Fever
- Lethargy
- Reduced Appetite
- Eye Discharge

While the recovery period for Canine Influenza is 2 - 3 weeks, some canines can develop a secondary bacterial infection, complications leading to more severe illnesses, or pneumonia. Book your appointment today to protect your furry friends and keep them healthy!
September: 10% Off Flea/Tick Medication
Did you know that one of the most common skin conditions in dogs is flea allergy dermatitis?
Flea bites can cause allergic reactions leading to:
- Irritation
- Scratching
- Hair Loss
- Infection
Fleas can produce up to 40 to 50 eggs a day for 50 days... that's a lot of itching! Protect your furry friends before there's a problem and get 10% off of Flea Medication for the month of September!
October: 20% Off Comprehensive Bloodwork for Senior Pets
Getting lab work regularly done is incredibly important for your pet's wellness and health. Veterinarians can't see everything going on internally and occasionally, your furry friends won't show symptoms of potential diseases, drops in levels such as cholesterol or hydration, or life-threatening illnesses! Not to mention, even if your pet is healthy, receiving a baseline for your pet is just as important so your Vet knows what's healthy for each individual pet! Be sure to come in during the month of October and receive 20% off Comprehensive Bloodwork for your Senior Pets!
November: 20% Off Cancer Screening
Coming soon...
December: Coming Soon!